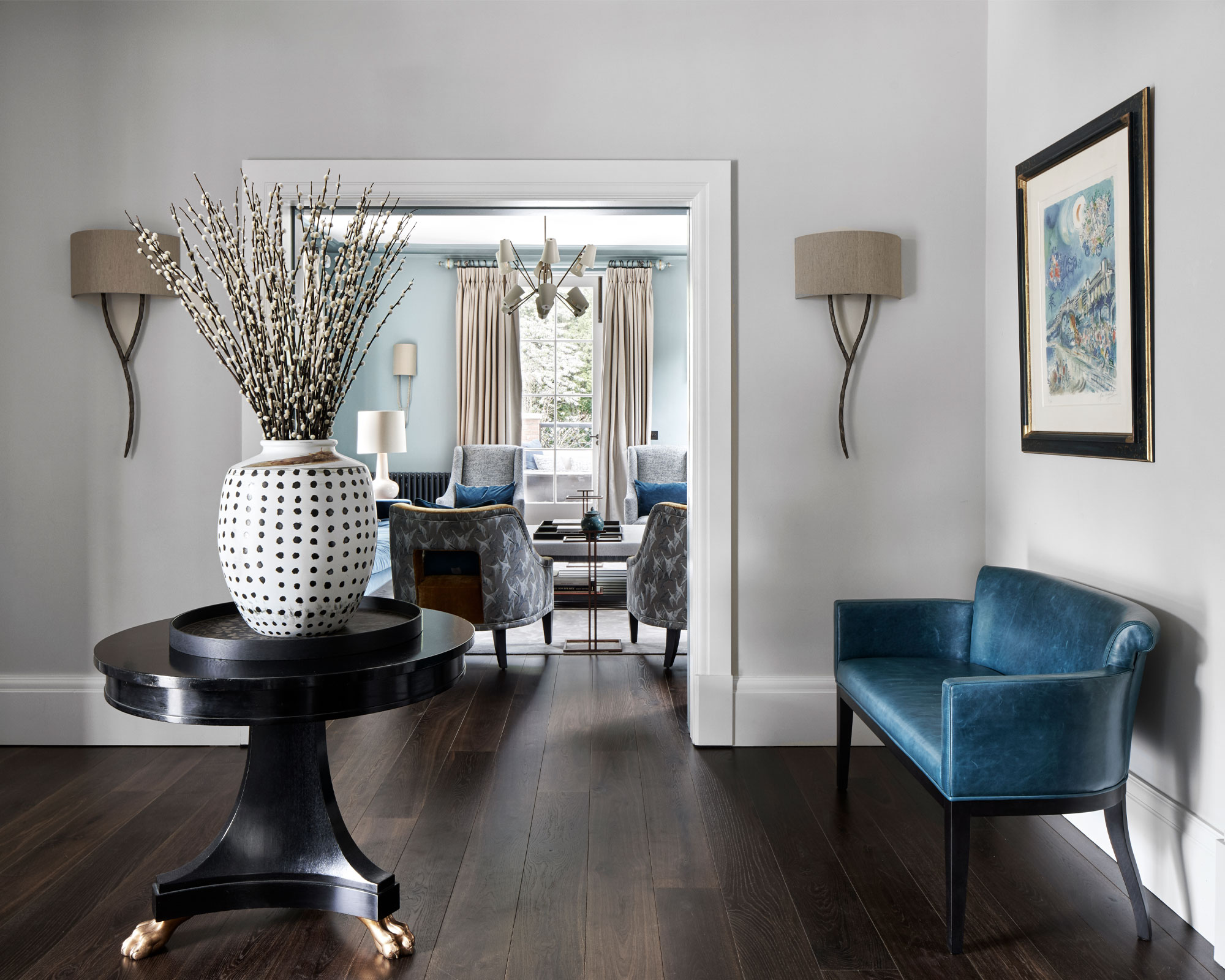 Never ignore the entrance design in your home. Your hallway is a crucial part of your home. It creates the first impression on your guests' minds. Also, it will influence your mood when you enter your home interiors after a long day. There are various ways you can decorate your hallway design. One of the most popular methods is painting the space. This is because this is quite simple and can be done on a budget. Also, you get lots of options when choosing a colour for your hallway entrance design. In case you are not sure about what hallway paint colour you should choose, here are a few options you can consider:
Best Hallway Paint Colours
01 of 06 Paint an accent wall
No one likes a boring hallway interior design. You must add some visual interest to the space. It can be easily done by creating an accent wall. An accent wall will add more drama and make it aesthetically appealing. You do not have to worry about the size of the hallway for this. Any bright colour can do the trick. Just make sure that it looks great with the rest of the walls. Also, add other elements to the hallway design that complements the colour of your accent wall. This will help to create a more organised look.
If your budget allows you to experiment, you can choose a textured accent wall or opt for other stylish options. However, doing them without any professional help can be difficult. Otherwise, you may end up ruining the task.
02 of 06 Add neutral colours
Some people like a calm and serene atmosphere. It makes people feel more invited to the space. You can easily achieve this mood for your hallway entrance design by choosing neutral colours for your walls. Neutral colours are one of the most popular colours you will find in modern homes. People love the simple yet stylish look they can create. You get lots of options as well. Cream, grey, blue, and brown are some of the most loved options. Moreover, these colours make the room feel airy and spacious. Therefore, you can benefit from them if you have a small hallway entrance design.
To keep them from appearing very boring, you must add a few bright colours for a hallway pop design. It can be easily done by carefully choosing the accessories and furniture in the space.
03 of 06 Go with pale pink
When you are not sure about which colour you should choose for your hallway design, you can go with pale pink. People love this colour in the interior design because it creates a very positive vibe. You can instantly make the hallway space appear more welcoming. As a result, your guests will feel more invited to your home. Also, this colour creates a soothing atmosphere that is relaxing. People with small hallway designs can consider this option as it will reflect more light and make the space appear brighter and larger.
04 of 06 Paint your front door
This is not one of the first ideas that will come to your mind, but you can certainly consider it. It is a brilliant idea to change the appearance of the hallway design without making a lot of changes. Moreover, this idea is budget-friendly. You only have to paint a very small area. Doors are generally in dark colours like brown. You can either create a sober look with neutral colours or create a hallway pop design with bright colours. It completely depends on your preferences. In most cases, people choose contrasting tones to add more drama to the space. However, you can choose the same colour as the walls to create a seamless hallway interior design. It will make the space appear more spacious as well.
05 of 06 Choose a warm yellow
Do you want to give your hallway a bright and energised look? A warm yellow can be used for this. Yellow creates a more positive vibe in the interiors and makes people feel productive. Also, a warm yellow will make your home interior design appear more welcoming. Therefore, it is perfect for the entrance design to make your guests feel invited. This vibrant colour will make your hallway design appear brighter also.
06 of 06 Mix up different colours
Painting your walls in the hallway with only one colour might make the space appear boring to some people. If you want to add more visual interest to the space, simply add different colours together. A mix of different colours can add more personality and charm to the space. You can choose any colour you want. Therefore, it gives you the opportunity to add all your favourite colours to the hallway design. However, you must ensure that the colours you are choosing complement each other. Otherwise, they will appear awkward together. Also, do not choose more than three colours for painting your walls. Your walls can appear overwhelming.